Enjoy Tasty Meals and Refreshments at Our Hotel Restaurants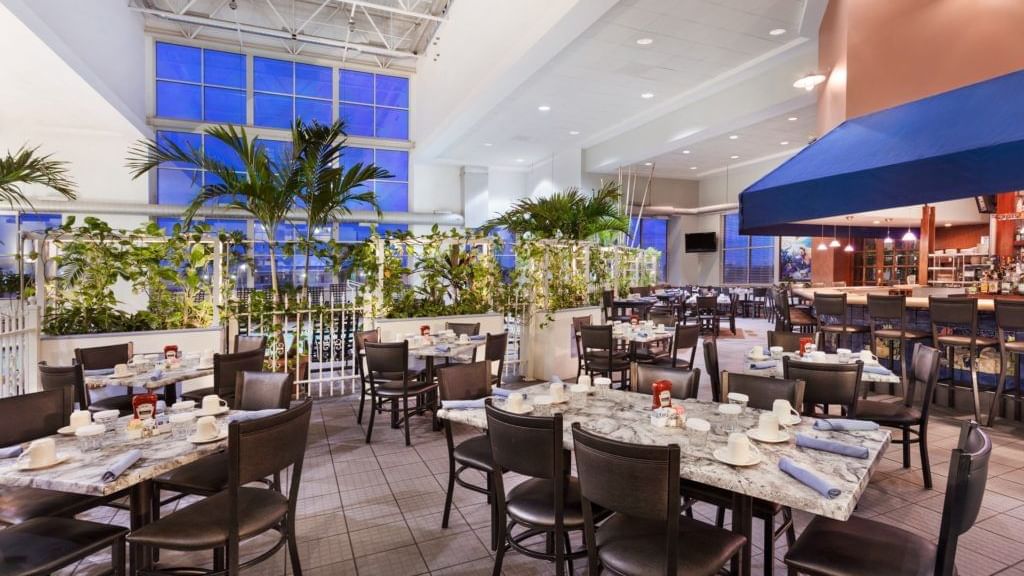 Hemingway's Restaurant
Rated as one of the top restaurants in Ocean City MD, Hemingway's Restaurant is our central spot for in-house dining. Hemingway's offers lunch and dinner, with many of the ingredients locally sourced and freshly harvested. Some of our chef's specialties include Maryland crab cakes, crab and corn chowder, and braised Boston pork butt. Our St. Croix Scallops are the most popular menu item. This is a seared and blackened scallop dish with a creamy pesto sauce and mango salsa that we prepare daily. For lighter fare, try our Reef Salad with fresh mixed greens, roasted corn and optional crab. Hemingway's Restaurant is open daily from 5:00 until 9:00 pm, and reservations are recommended.
The Coral Reef Cafe
Enjoy a casual breakfast, relaxed lunch or laid-back midday meal at The Coral Reef Cafe, which is one of the top Ocean City boardwalk restaurants for breakfast and lunch. The Coral Reef Cafe is situated in our three-story atrium, providing you with plenty of natural light for a refreshing experience. The breakfast menu at The Coral Reef Cafe includes omelets, pancakes, Belgian waffles, eggs done your way and more.
For lunch, try our 1/2-pound, hand-pattied Reef burger or crab meat sandwich. Our hot Cuban sandwich and The Coral Reef turkey sandwich with Provolone, avocado, lettuce, tomato and red pepper aioli served on a ciabatta roll are also popular choices in our cafe. We also offer vegetarian and gluten-free options. For a cocktail, step up to our full-service bar. Our daily happy hour takes place from 3:00 until 6:00 pm, with different drink specials to try. The bar has a 65-inch flat-screen television showing some of your favorite sporting events.
The Deep End Poolside Bar & Grill
At The Deep End Poolside Bar & Grill, you don't have to leave our beautifully decorated pool and lounge area in order to enjoy refreshments and light snacks. Located at the south end of the main pool, The Deep End Poolside Bar & Grill features tropical refreshments and soft drinks. Enjoy something from our grill, which serves locally-caught seafood from Maryland fishermen.
We also offer a variety of hot and cold sandwiches at The Deep End Poolside Bar & Grill. You'll be able to dine with a beautiful view of the Atlantic Ocean and listen to the soothing sounds of the waves coming to shore. The Deep End Poolside Bar & Grill is just steps from the beach, making it convenient to take a break from shelling or building sand castles to enjoy a light and refreshing meal.